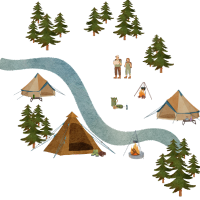 Calling all campers!
Join us for a summer Bible adventure as we explore God's promises to us with Bible lessons from the book of Numbers. Along the way, we'll learn wilderness skills, play games, sing and memorize God's word.
Dates: June 26 – 30, 6 – 8 p.m.

Ages: Pre-K – Rising 6th graders (with a nursery available for younger children).
Volunteers
Vacation Bible School 2023 is a joint ministry of Covenant Presbyterian Church (CPC) and Reformation Orthodox Presbyterian Church (ROPC). We welcome teen and adult volunteers from both churches (who have completed the background check process). Volunteers from CPC should reach out to Elizabeth McAdams for information. Volunteers from ROPC should contact their church for signup information.