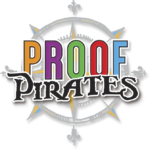 Ahoy! Join us this summer as we set sail to discover amazing truths about God's grace.
Dates: June 6-10, 6-8pm

Ages: Pre-K – Rising 6th graders (with a nursery available for younger children).

Pre-register children here.
Our Theme This Year
Chore charts. Report cards. Standardized tests. Athletic banquets. Kids are inundated with messages about their performance. Because performance—work and reward—is one of the basic structures of our lives, kids often grow up thinking, "I am what I am because of what I do . . . or because of what I've failed to do." How different this message sounds from the biblical message of redemption by grace!

PROOF Pirates introduces kids to God's amazing grace through a five-day, pirate-themed curriculum. It explains the doctrines of grace using the popular PROOF acronym with the book of Ephesians (God's grace is Planned, Resurrecting, Outrageous, Overcoming, and Forever) so kids know that it is not their performance that makes them right with God.

PROOF Pirates teaches children to remember that what God says about them is more important than what others say, and that it is God's grace that makes us who we are. Whether using a treasure map to teach about God's sovereign plan or a skeleton to explain how God makes dead people walk, PROOF Pirates helps kids remember the one message we never want them to forget
Volunteers
This VBS is a joint ministry of Covenant Presbyterian Church (CPC) and Reformation Orthodox Presbyterian Church (ROPC). We welcome teen and adult volunteers from both churches (who have completed the background check process). Volunteers from CPC can sign up here. Volunteers from ROPC should contact their church for signup information.