Vision
The vision of the children's church ministry is to support parents in the gift of raising children who love the Lord their God with all their heart, soul, mind, and strength and to love their neighbors as themselves.
To that end, we offer the following for our youngest members and friends.
Children's Ministry Volunteers
All children's church staff and volunteers have undergone background checks prior to serving with children. These background checks are completed again every five years. All classes for children are taught with two leaders in the classroom at all times. Volunteers undergo training so that they may provide the best instruction and care for your children.
If you are interested in serving as a volunteer in the children's ministry, email Eva Brown, the children's ministry director, at children@cpcoviedo.com.
Sunday School
Covenant Presbyterian Church offers Sunday School classes for all ages, from 9:30-10:15 a.m., starting the Sunday after the school year begins in mid-August and continuing through May. We use curriculum designed specifically for the needs of each age group, from toddlers to high schoolers. Wonderful, dedicated teachers provide a fun, safe environment for the children to learn more about God and His Word.
Preschool & Under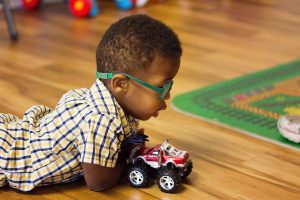 Currently, our youngest children, preschool and under, meet in the toddler church room during this hour. There they are able to play, sing, color, wiggle, and read together a brief story from the Bible. Parents may drop off their child at 9:30 and are asked to retrieve them after adult Sunday School ends at 10:15 unless the children are staying for toddler church time during the service.
Grades K-2
Children in grades K-2 meet with our teachers, Meredith Brown and Penni Holt. During the 2017-2018 school year, these children are using the Jesus Storybook Bible curriculum to learn how the entire Bible tells one story about Jesus.
Grades 3-5
Children in grades 3-5 are taught by Mary Ann Porter and Holly Clow. They are working through the middle elementary curriculum provided by Great Commission Publications. During the 2017-2018 school year, they will be focusing on little-known servants in the Bible, the joys and duties of worshiping God, and the teachings of Jesus from the Gospels. For more information on this curriculum, visit the middle elementary curriculum by Great Commission Publications at Middle Elementary Curriculum.

During the Service
It is our desire that all families feel welcome at Covenant Presbyterian Church. With that hope, we provide several options for children during the service, beginning at 10:30. Parents should always feel free to keep their children of any age with them throughout the entire service, if they desire.
Cry Room
For our youngest babies, as well as nursing mothers, a private space is provided for your comfort right outside of the sanctuary. This space has several rocking chairs, as well as a diaper-changing station. It also is equipped with a speaker so that you may listen to the sermon.

Nursery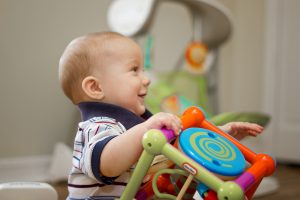 We provide quality childcare for infants during the worship service at 10:30 a.m. This separate nursery space is designed specifically to keep our youngest babies safe. Around the age of 15 months, depending on the needs of the child, they are promoted to Toddler Church.

Toddler Church (Ages 1-3)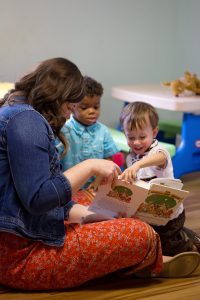 Toddlers through age 3 have a separate space from the younger babies. Children may attend Toddler Church for the entire worship service, or may stay with their parents for the beginning of the service and then join Toddler Church during the sermon time. Children in this age group take part in a lesson from the toddler curriculum from Great Commission Publications, where they learn that God loves them dearly. These children are also given time for a snack and for free play. Snacks are provided, but families with special dietary needs may bring their own snacks. Families are encouraged to bring a bag for each child with a water cup and change of diapers/clothes. A bathroom for children who are potty training is located in the toddler church room.
For more information on the curriculum used with these children, visit Toddler Church Curriculum.
Children's Church (Preschool-Grade 2)
Children who are in preschool through second grade start the service with their families and stay through the first part of  corporate worship. During the offering, children who wish to attend children's church are dismissed for their own children's church time.
The children meet their teachers in the foyer and walk to their class in the educational building next door. The goal of children's church is to prepare the children to attend and participate in corporate worship when they are older. To that end, during 2018 children will be learning about various aspects of faith and worship.
During the spring of 2018, children in this age group are learning the basic tenants of the Christian faith through lessons on the Apostles' Creed. Each week they learn a new statement of faith and explore its meaning. Through songs, Bible reading, coloring, and movement, children incorporate these statements of faith into their lives and hearts. At the end of the semester, children will have each created their own book about the Apostles' Creed.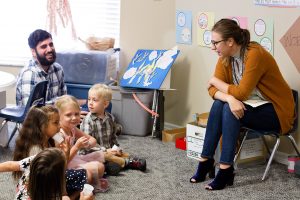 Children attending children's church will rejoin their families at the end of the sermon so that those who have been received as communicant members may partake in the Lord's Supper with their families. A child becomes a communicant member of CPC by taking part in a class designed specifically for children that will explain the doctrinal beliefs of the Presbyterian Church of America. If you are interested in learning more about how your child can become a communicant member of CPC, please email Pastor Randy Greenwald or the children's ministry director, Eva Brown, at children@cpcoviedo.com.
Third Grade & Up
Older elementary school children at CPC are encouraged to learn to listen to the sermon and glean key points from it by interacting with the sermon through the use of a children's activity sheet. Each activity sheet is designed specifically for that week's sermon and helps students listen for the big ideas throughout the entire worship service. Children's activity sheets may be found on the table in the back of the sanctuary. Parents are encouraged to use these activity sheets with children after the sermon to check for understanding and help their children grow in their faith.

TAB CONTENT5
Contact
Any questions regarding CPC's children's ministry can be directed to our Children's Ministry Director, Eva Brown, at children@cpcoviedo.com.